If you happen to you looking for Best Freelancer.com Alternatives For Freelance Works, then you have come to the right place. Freelancer.com is the number site for freelance job seekers and service providers. It brings people from all over the world in the site. Many who happened to have used Freelancer.com have had good remarks about them.
But them, there are other many freelancer.com alternatives you can use today. These sites are great to use and provides more or less the same service as freelancer.com. So, which sites are as good or even better than Freelancer.com? Is there any better alternative to what it offers? Is there any other freelancer sites that has less competition but is also having huge traffic to generate income for freelancers? The answers below is just meant for you. Enjoy.
Best Freelancer.com Alternatives For Freelance Works
There are many other freelancer sites that offer great services for you. They include
Fiverr is an online marketplace for freelance services. Founded in 2010, the company is based in Tel Aviv, and provides a platform for freelancers to offer services to customers worldwide. As of 2012, over three million services were listed on Fiverr. The service facilitates meetings between employers and freelancers who can aid them in brand building or their marketing efforts, providing them with access to a vast pool of highly-qualified freelancers.
Also See: How To Create Fiverr.com Account In 2 minutes
The platform allows entrepreneurs to discover freelancers by having them come in contact with service sellers in three different levels. This way, they get to meet freelancers with the ideal skill sets and rates who will suit their needs. These seller levels allow businesses to either expand or narrow their searches according to freelancer levels.
With a distinctly different approach than the other services on this list, Toptal is for seasoned, talented freelancers. Passing Toptal's screening process gives you unparalleled access to meaningful projects with great clients (JPMorgan, Zendesk, Airbnb, etc.) and fair compensation (no low-bid contests). You'll also be able to join the Toptal community for frequent meetups and tech events.
Toptal offers jobs only to developers and designers. Under these two categories, come many sub-categories and if you are skilled in any of them, you should hurry to register with Toptal as freelancer.
Also See: Best Websites For Freelance Writing Jobs
Elance removes a lot of the hassle that comes with freelancing. You'll be able to make a profile right away without jumping through any hoops. You also enjoy payment protection to ensure you're always paid for the hours you work and more. Elance has since merged with Upwork.com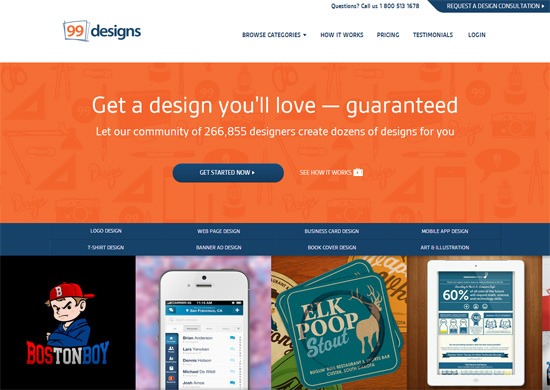 99designs is a professional design service that uses a unique design contest marketplace approach. The platform serves as a venue where a massive community of designers and business owners converge and do business. It has a unique yet very effective model that connects designers from all over the world to businesses and individuals that need top class design. Aimed towards small businesses and startups everywhere, 99designs provides businesses with top class talents who are more than capable of providing graphic designs for logos, business cards, t-shirts, websites, and more.
Also See: How To Find & Apply Freelance Works Online & Get Paid Fast
Guru.com provides businesses with the ability to find and hire talented freelancers all over the world. The platform offers freelancers the opportunity to market sought-after skills to a global audience with minimal cost. More Than A Marketplace. We do much more than facilitate job postings. We also offer a wide range of promotional and support services. This combination of services and a powerful, flexible platform helps you get the work you need done in a way that best suits you.
Self-Funded, Self-Motivated. Guru started as a passion project in 2001. Inder Guglani was dissatisfied with the freelance marketplace landscape, and so he set out to make it satisfying.
Also See: Best Freelance Online Jobs For Students
There are other Freelancer.com Alternatives you could find out there. However, we can guarantee you that these listed here are part of the best in the business of freelancing. They have good records and are trusted.
However, you could also want to do more of your research and see what more you can find for yourself. If you found this valuable, kindly use the comment box below let's hear from you.