We want to show you the best ways to register for UBA internet banking. But before that, who is the UBA? United Bank for Africa (sometimes misspelled as United Bank of Africa), or UBA for short, is a commercial financial institution that was founded in Nigeria in 1949. Today, it is one of the most powerful and resilient commercial banking groups in Africa. It has branches in 19 African countries and three offices in major cities (Paris, London and New York).  UBA bank provides its customers with top-of-the line quality services and 24/7 customer support.
UBA customers can decide to do most of their transactions on the internet. This includes checking of account balance, transfer of money, bills payment, airtime purchase etc. To be able to do all these, you must first register on the UBA internet banking platform. And that is what we are here to show you. So, read on.
How To Register UBA Internet Banking
There are three ways you can register for UBA online banking: Instant self-enrolment; Registering via Virtual Enrolment Form; Applying at the local UBA branch. Let's take a detailed look at each of them.
1. The instant self-enrollment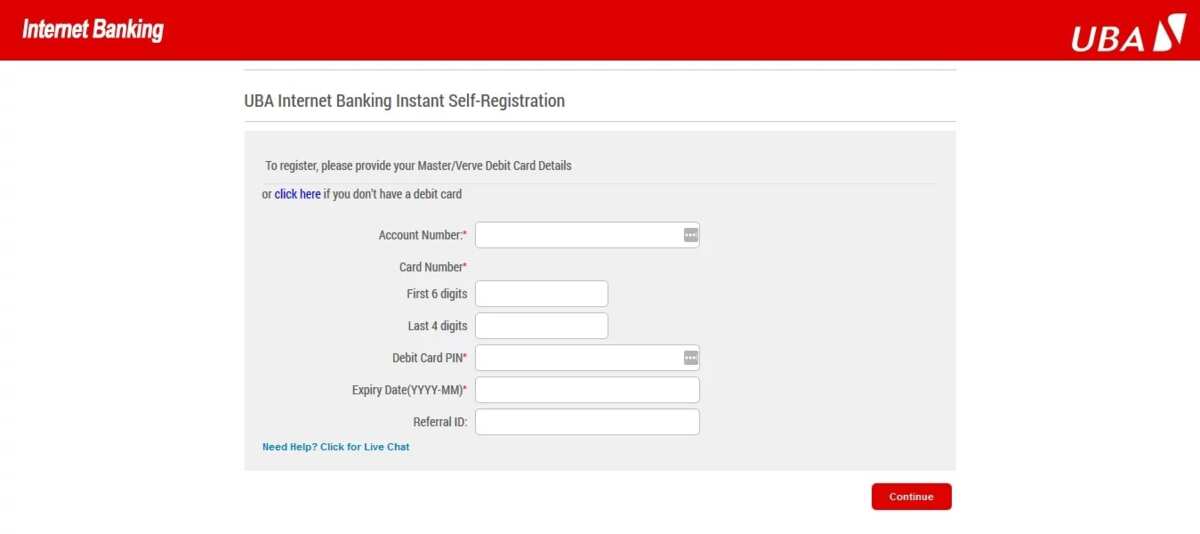 This is the easiest out of the three options. UBA officials claim that it would only take 40 seconds to do it! All you need to do is
Go to the UBA login page (ibank.ubagroup.com) and click on the 'Instant Self-Registration' button.
Fill in the form that appears in a new window, and you will be able to use your account immediately.
You will get a text from the bank with your One Time Password, which is your key to the doors of online banking.
Also See: Wells Fargo Online Banking Registration Guidelines
2. Virtual enrollment form
Virtual enrollment form is a little bit more complex. In order to get access to your online bank account, you will need to fill in the U-Direct Virtual Channel Enrolment Form. This is the option available to individuals only. For corporate clients, UBA has an Internet Banking Virtual Channel Enrollment Form. Both of the forms can be found on the UBA website. Alternatively, you can click here for the Individual form and here for the Corporate form.
3. Via UBA Branch
You can
Go to your nearest UBA branch,
fill in the forms there and get enrolled in UBA Internet Banking.
Corporate clients have to go to the nearest UBA branch to register their employees under the corporate account.
So choose the best option for you and enrol whenever and however you want.
Also See: Sterling Bank Internet Banking Registration Guidelines
Features Of UBA Online Banking
The UBA internet banking can also be referred to as U-Direct. So what exactly has U-Direct UBA created for its clients? It is an online banking service that allows clients to have secure and unrestricted access to their accounts at any moment. Some of the main features of UBA Direct Nigeria include:
Very fast self-registration process: It will only take a few minutes (if not seconds) to register for online banking.
Phone replenishment: Buy airtime for yourself and your family without logging out of your computer.
Account monitoring: Check on your account, the incoming and outgoing transactions, loans, etc.
Money transfers: Send or receive money from anyone in the world.
Flight bookings: You can buy plane tickets straight from your UBA account.
Bill payments: Renew your subscriptions and cover your utility bills.
Cyber Receipt: Receive a digital proof of all the payments and transactions.
Personalisation: Customise your online banking experience.
Top-of-the-line security: You accounts are protected by the best security systems available.
24-hour access: Use your bank account whenever you need it.
Does this sound like something you would love to get your hands on? Then continue reading.
Also See: Union Bank Online Banking Registration Requirements & Guidelines
Requirements For UBA Direct Registration
Here is all you need for UBA internet banking registration. They include
An Active UBA account
A device with access to the Internet
A completed web/enrolment form
Executed Indemnity, if you want to raise your transaction limit (optional).
Finally, you now see how you can register UBA internet banking in 3 different ways. Got questions? Drop them below.