If you are on Social media, you must admit the fact that social media is overwhelming and time consuming. There are lots of things to do, yet there isn't much time to attend to them. using tools can make all the difference for you. To keep social media pages going and active is a herculean task. This is why we have decided to compiled the best 5 social media management tools you can use for increased productivity. 
Whether as an individual, a business both large and small, or you own a social media agency, it truly takes a lot away from you to be active in all social media platforms. However, using these social media tools makes the work easier for you to manage. Creating and publishing your social media posts takes far more time and creativity than the average person would expect, so when you have a management tool on your side, it becomes more efficient.
Let us see some of the very importance of social media tools.
Benefits Of Using Social Media Management tools
Using social media tools serves some very important benefits for you and your business. some of them include:
Tasks like scheduling
Integrating with your blog
Responding to comments and messages in one place
Time management, etc
Best 5 Social Media Management Tools For Increased Productivity
Below are some of the most popular social media management tools you can use today.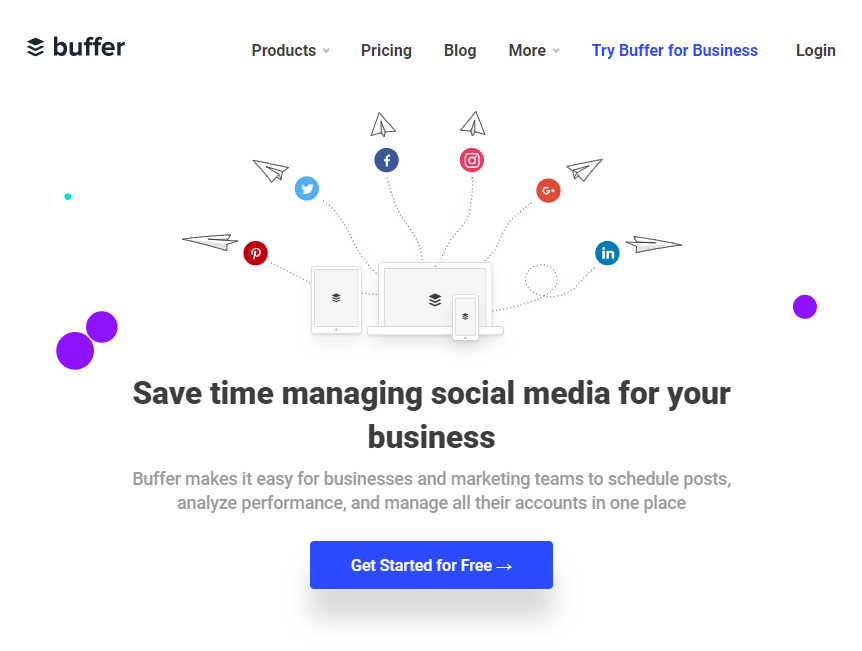 Buffer is one of the best tools you can find in the market today. It has lots of unique features that makes you salivate. For starters, Buffer has a FREE FOREVER plan you can use with interesting features.  The other option is a Pro Plan, which starts at $15 per month and goes up to hundreds of dollars per month depending on how big your company is.
Buffer Features
A sleek publishing and scheduling platform for managing all accounts in one place.
Strong analytics.
Support for several team members with varied user access.
Options to connect with the most popular social networks, such as Pinterest, Facebook, and Instagram etc.
An optional module called Buffer Reply for managing all social media replies in one inbox.
An optional tool called Buffer Analyze for enhancing your metrics and reports.
Prices: Forever free plan, $15, $99, $199, and $399 per month (with a 14-day free trial)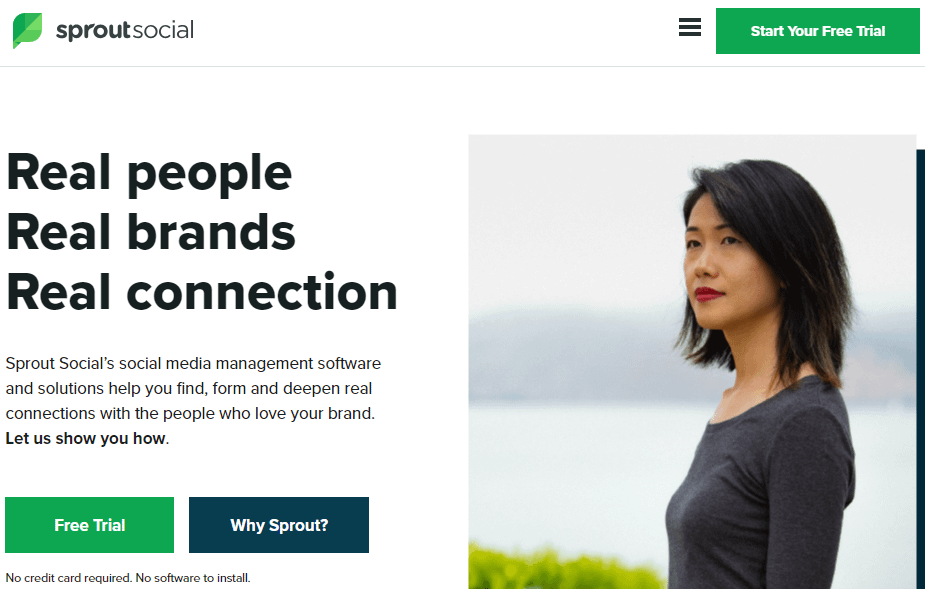 This is another of the best social media tools anyone can use today. Sprout Social is one of the few social media management tools that provides customer relationship management (CRM) features. Having a complete profile of your customers help you serve them better and build stronger relationships with them. Sprout Social has a focus on building and fostering more human relationships with followers on social media.
Sprout Social Features
A social inbox for handling all comments, replies, and messages.
A full CRM.
A social content calendar.
Integrations with up to ten social profiles.
Sprout Social has a full social media management system, with tools for analytics, engagement, publishing, and uncovering trends.
Prices: $99, $149, and $249 per user per month (with a 30-day free trial).
Hootsuite is one of the most popular social media management tools. It provides a free plan for those getting started or with smaller companies. This way, you can work with three social profiles and send out 30 scheduled messages in the calendar. As a social management tool, it helps you save time by scheduling posts to multiple social accounts.
Features: Being such a comprehensive platform, there are several things that people love about Hootsuite: being able to monitor multiple accounts and keywords, connect with over 35 social networks, and bulk-schedule social media posts.
Prices: Free plan, $29, $129, $599 per month, and enterprise pricing (with a 30-day free trial)
Also See: How To Increase Twitter Followers Organically From 0-10k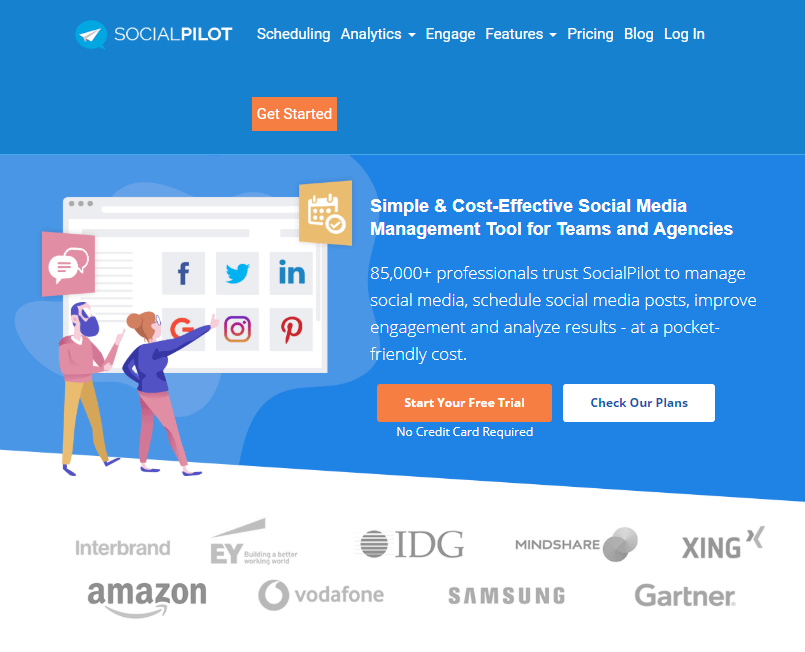 Social Pilot is known for connecting you with just about every social network you can think of. It provides simple scheduling, team collaboration tools, and a content curator. The analytics are also quite impressive, with white label PDF reports for sending out to clients or stakeholders.
Features
Integrations with dozens of social networks. Some of the plans support about 200 accounts.
You can send out hundreds of posts each day, making it ideal for agencies.
The analytics include white-label PDF printouts.
A social inbox for managing all replies in one place.
You can have multiple team members.
Content curation and discovery.
It also has a browser extension and URL shortener.
Prices: $10, $24, $40, $80 per month, and enterprise pricing (with a 14-day free trial)
Also See: proven Strategies To Sell On Instagram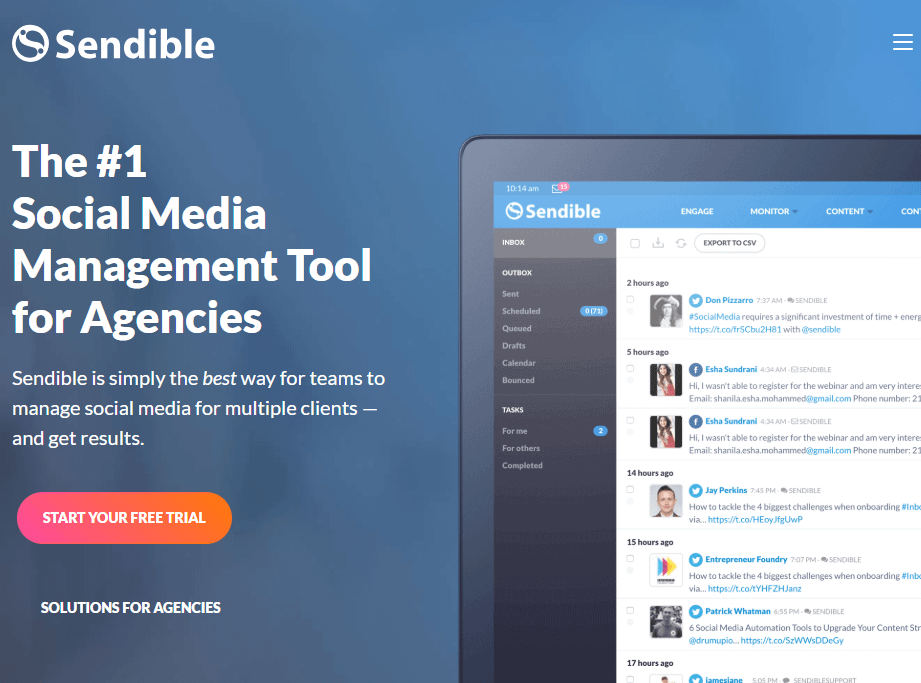 Specifically, Sendible is marketed directly to social media agencies. It caters to companies that have teams of people. It has unique features to cater for your needs as an agency.
Sendible Features
Support for hundreds of social networks.
A centralized scheduling calendar.
Several cloud integrations.
Delegation and communication tools, all in one dashboard.
Social reports with emails and printouts.
A full CRM.
Social listening tools.
Prices: $29, $99, $199, $299 per month, and enterprise pricing (with a 30-day free trial).
Conclusion
We are sure that whatever your needs, these Social Media Management Tools listed here can help you through. All you need to do is to visit the sites and evaluate them and consider what you want. At the end, the decision is yours to make.
Feel free to share this as well as asking questions if you have any.